As a brand with only two retail locations, our store teams are tasked with making them just as special as can be and Travis Anshus, our Assistant Store Manager in NYC, does just that. By warmly greeting you at the door, going the extra mile, graciously sharing his expertise; Travis makes sure customers feel at home in our space. We chatted with Travis about what prompted his move to New York and what he loves most about our small but mighty shop in Tribeca. 
Tell us a little bit about your background - where did you grow up and how did you end up in NYC?
"I moved to NYC from Houston, TX (where I grew up), four years ago this month actually! I was working for a boutique consulting firm in Houston as a client services representative but decided it was time for a change. I had a friend who lived here with an extra room in her apartment that was coming up for rent. So, I sold all of my furniture, got rid of my apartment and car, and two months later I was on a one-way flight up here. I've learned a lot in the last four years, made a few mistakes, have done a lot of growing up, met my partner, and joined the Schoolhouse family. Making the move was by far one of the best decisions I've ever made."
What is your personal design mantra?
"I love mixing family heirlooms and vintage finds in with newer midcentury modern inspired pieces. Homes feel impersonal to me if everything in them is brand new or if it is all from the same store. I brought some of my most cherished pieces with me to New York; an antique valet stand that was my great grandfathers, my grandparents framed original high school senior portraits, and a few retro pieces of needlepoint my mom created in the 70's, to name a few. Mixing those items in with newer furniture pieces (and quite a bit of Schoolhouse products) transformed our white walled bento box apartment into a home that is unique, and really feels like home."
What are your top 3 favorite Schoolhouse products?
"The Mulberry Tripod floor lamp – a beautifully crafted, quintessential mid-century modern design, the IBM Clock in Gray – an iconic timepiece, truly one of my favorite things, and the Eleanor Pritchard Throw – one of the most beautiful throws I've seen, the weaving is incredible."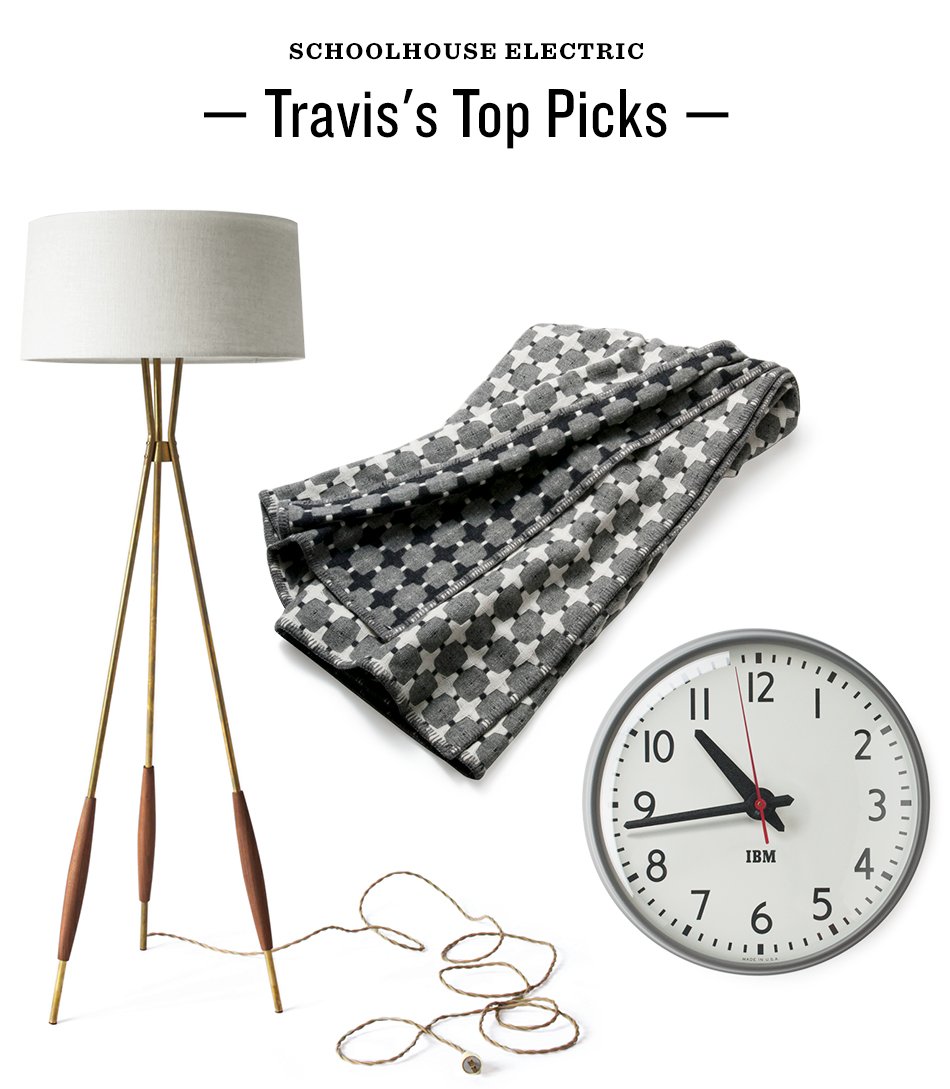 What's your favorite corner/nook in the NYC store?
"My favorite part of our store is the little bedroom set up underneath a Value sign taken from an old True Value hardware store. We have two Hamilton beds in persimmon styled with our bedding, throws, and pillows on top of a Herringbone rug. It's a great way for customers to see how you can layer different patterns and textures, I've actually sold the exact set up to a number of folks!"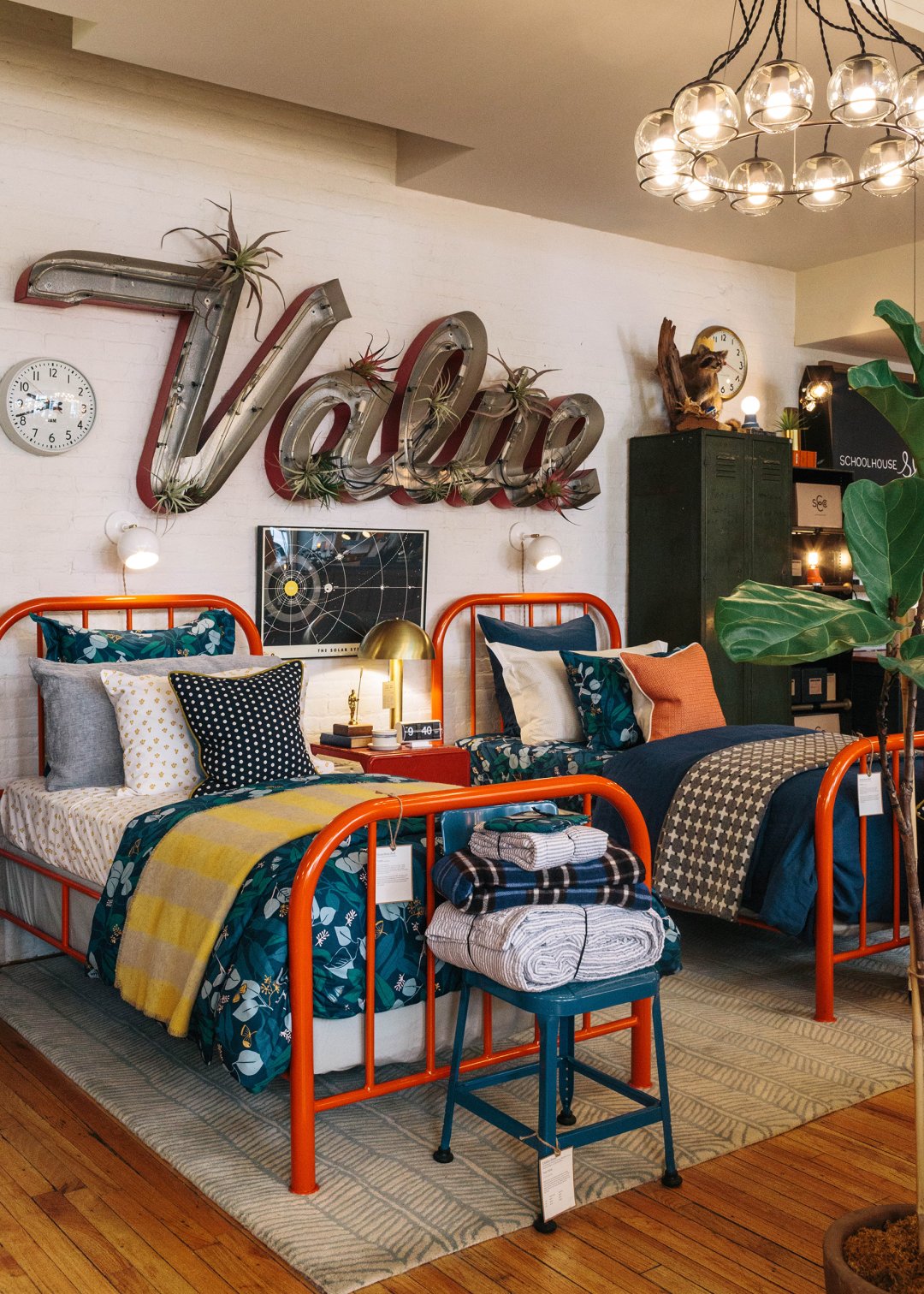 Any memorable customer interactions you'd like to share?
"It's hard to pick just one interaction as there have been thousands over the years, but I really enjoy working with customers who are working on a project or remodel and are looking for help to pick lighting to best suit their needs. I had one family who were visiting from Alabama that were building a new home and made a special trip to visit us while in town to pick out lighting for their entire house. They brought in their architectural plans and we worked together for several hours going room by room picking out what would work best for them, they were open to suggestions and we came up with really great solutions to fit their needs. It was a really rewarding experience. They were very excited not only to visit our store, but to use our lighting throughout their new home."
Describe your perfect day in NYC. What do you eat? Where do you visit?
"My Partner Adam and I are very much into all things food and drink. My perfect day would start with a walk down to Blue Stone Lane Café for a flat white or piccolo on their massive outdoor patio. Blue Stone is an Australian coffee shop I've worked with and their espresso is fantastic. After that, a short walk over to Extra Virgin in the West Village for brunch, it's a tiny little spot that is a favorite of mine. On Saturdays, we love to hit up the Union Square Green Market. Taking our time, going stall to stall, and picking up things you can't always find in a grocery store is one of my favorite things to do in the city. It is the place to go for seasonal produce, farm fresh meats, handmade cheeses, and flowers.  For a respite, a great place to stop for a drink at the bar and a quick bite is a French restaurant in Chelsea, Le Singe Vert. Finish off the day by cooking dinner at home for a few friends with our finds from the Green Market, and you have my perfect day; full of food and walking around the city that I love."
Where do you go in NYC for inspiration?
"Other than the aforementioned Green Market (I really love it there!), getting lost in the West Village for a few hours, going shop to shop, and just exploring is where I get my inspiration. The city is constantly evolving and there is always something new to see or do. I also enjoy a good browse through ABC Carpet and Home. With so many great things packed in under one roof, it's hard to not be inspired there. If you're into design I also highly recommend the Cooper Hewitt museum on the Upper East Side, it's housed in the Andrew Carnegie mansion and was the first Smithsonian museum outside of D.C., it's definitely worth the trip."
| Visit Travis at our NYC store in Tribeca: 27 Vestry St, New York, NY 10013. Our hours are Monday - Sunday: 10:30 AM - 6:00 PM |