Here's a chance to get to know one of our nearest and dearest. Since we only have two retail stores on each side of the U.S., we thought it would be prescient to spotlight the two people who have made it their daily mission to make them as special as can be. In our last post, we introduced you to Michael, our bespectacled and wise NYC store manager. Here, we have our Portland store manager April; a thrifting professional, lover of pieces with a past and someone who knows that it's always worth it to save your pennies to get what you truly want. 
Warmth personified, it's no surprise that April is also lovingly known as "mom" to her staff. Caring and undeniably gifted, she's the one who's responsible for making our showroom sing season after season. We sat down and chatted with April on a sunny afternoon to talk everything Portland and why working at Schoolhouse feels just like coming home. 
Hey April! To start off, will you tell us how long you've been here at Schoolhouse? 
"Sure, so it will be two years starting in October! I was hired as a retail assistant first and then moved up to the role of store manager. I've held a wide variety of jobs before this, including working at a Montessori school. I also cooked for many years as well, which is where I met my husband." 
What do you most love about Portland and the Schoolhouse flagship store in particular – what makes it so special to you?
"I just absolutely love Portland, I moved here in 8th grade and it has always been my home base. My family and I have lived in several different places and we always come back. Portland has a blue collar, down-to-earth vibe. While we're seeing that change a little bit these past couple of years, I am hopeful that it will always be one of its strengths and we won't lose too much of that core spirit. 
As for the store, it's hands-down one of the most beautiful retail spaces in the entire city. The huge old timbers and the giant windows everywhere are breathtaking and gives this incredible ambience to what we're doing every day and really lets us shine in our work. Sometimes this building feels like standing in an old growth forest." 
Give us your top recommended Portland destinations: 
"Pretty much anywhere outside in the city - you're always so close to nature wherever you go. I love Washington Park and the Japanese Gardens. When you're standing on top of the high vistas looking over the city and seeing all these different water systems... I love it. You're always only 30 minutes away from being deep in the forest. Plus, no matter where you go, you're basically guaranteed to have amazing food. Salt & Straw, Pip's Original Doughnuts and Byways Cafe are a few of my favorites." 
(Clockwise from top left: Washington Park, Salt & Straw, Pip's Original Doughnuts, Portland Japanese Garden, Byways cafe)
How does working at Schoolhouse inspire you and what do you love most about your role?
"Working at Schoolhouse is the best job I have ever had. Beyond a doubt. There is this family element tied to our culture that is unparalleled to anywhere else. Every person genuinely cares about each other, regardless of what department they might be in and you can grab a coffee with anyone at any time and just have a nice chat. To work for owners that really, truly care about their employees is unfathomable.
For my day-to-day, I like that there is this perfect balance of technical; running a business, accounting and managing a staff - the nitty, gritty - with merchandising the showroom and being able to create an inspiring space for people to visit and work in."
Tell us your favorite Schoolhouse-related story to tell others:
"Well, we have some of the greatest customers. We had a wonderful couple who came in recently, they were grandparents, you know, whose children had long left the home and they had come in to order some lights and look around. As they were leaving, they made a point to track me down and let me know how much warmth and care they had felt in our space and from our girls in the store. They just really appreciated the environment so much and even wrote me a cute note about their experience that I have hanging in my office right now."
What's your personal design ethos and how does it play out it your own home?
"I love all things warm, lived-in and collected. The styling that I get to do at Schoolhouse feels like an extension of my life at home. My house was built in 1913, it's an old craftsman farmhouse on the costal range. It has a crazy mix of wonderful things passed down by my family. I really believe in the 'save your money and buy once, so you better make sure it's the right thing!' mindset."
Share your ideal day off-work, how do you spend it?

"Depending on the season, my hope is that it's warm and my kids and I can hike in to the creeks, rivers and waterfalls somewhere and go splash around and swim. Or I'd love to spend the day working in the garden and then cooking for the rest of the night. I am definitely a homebody, in case you couldn't tell."
What are your current Schoolhouse favorite products? 
"I have so many favorites... but here are some of my top picks:"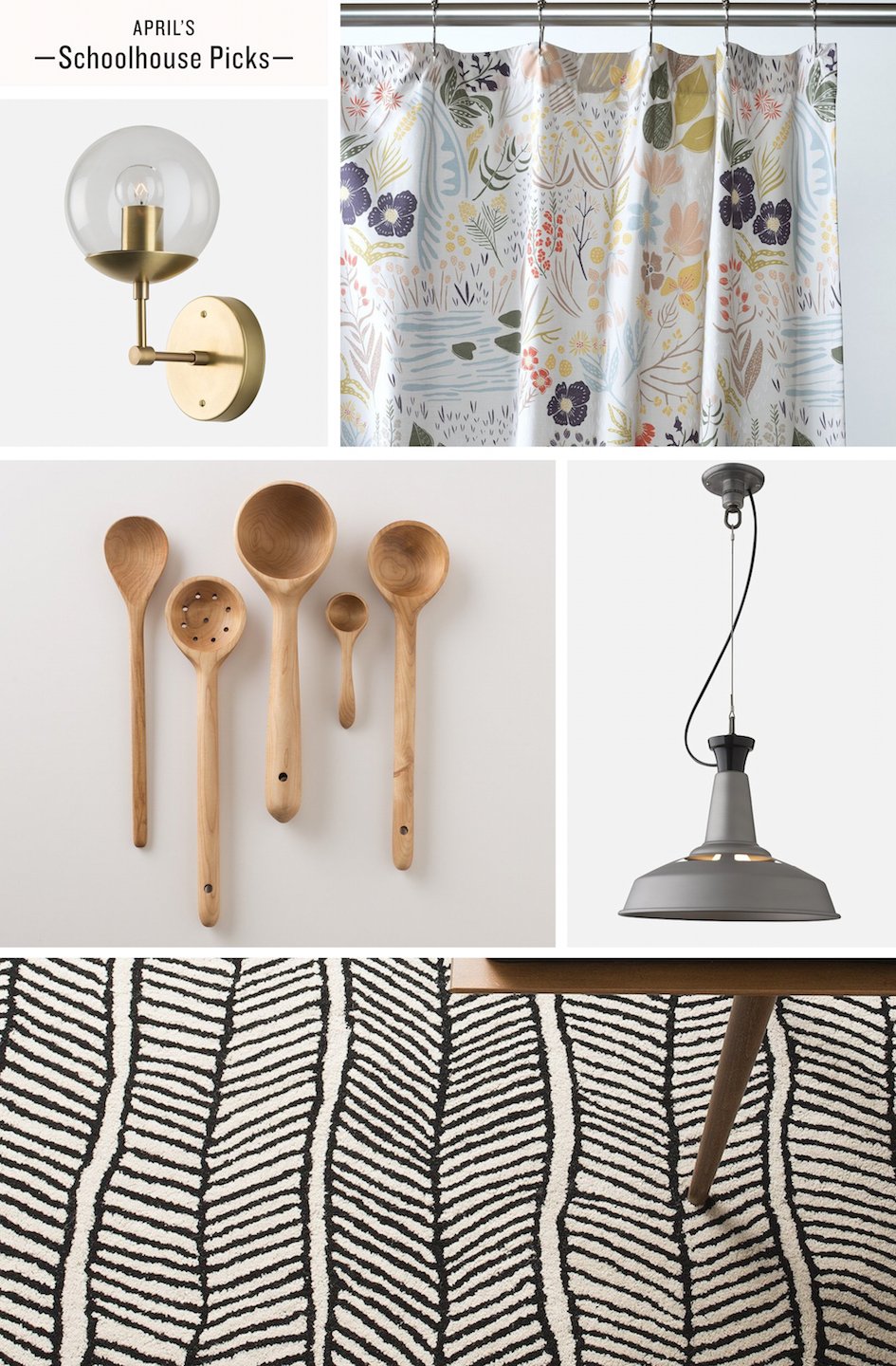 Ellerbe Sconce - "It's like something you would see in a movie theater in the 1920"s but works just as well now as it did then." | Woodland Meadow Shower Curtain - "Goes with every color and makes my mix n' match towel collection all work together." | Peasant Wooden Spoons - "I love our smaller home items, these are so thoughtfully made." | Factory Light No. 5 Cable Pendant - "Hence, I have a farmhouse..." | Herringbone Rug - "So comfy and super plush, I recommend it to people all the time."