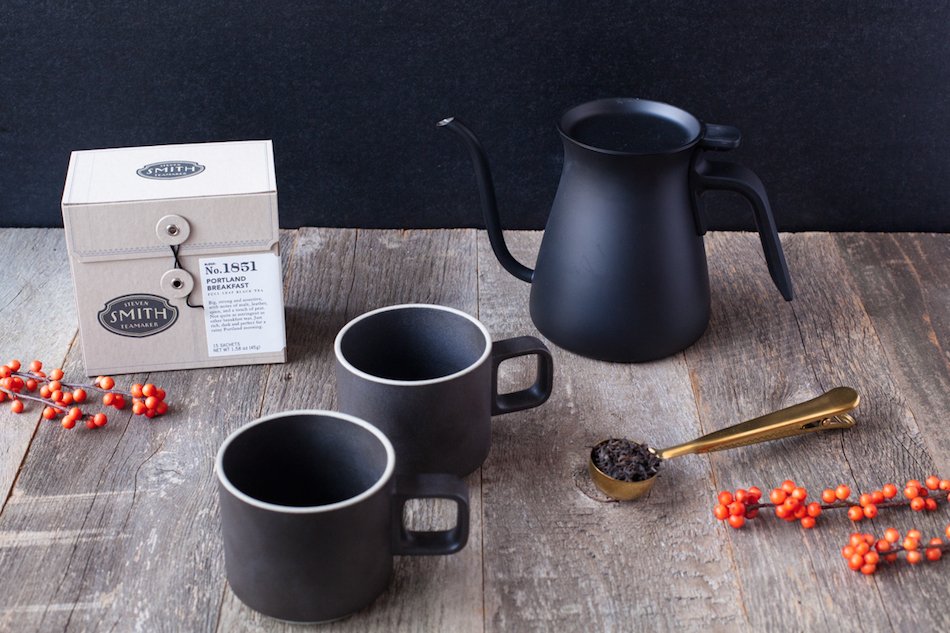 We're reached the halfway point of our week of giveaways and the coziness continues with a relaxing giveaway in partnership with Smith Teamaker, Portland's legendary tea savants. As true devotees and connoisseurs of every facet of tea growing, making and consumption, they've elevated the simple act of drinking tea into an art form. Recently they released a speciality blend that captures the spirit of our lovely rose city: Portland Breakfast tea. With notes of malt, leather, spice, and a touch of peat, this richly dark tea is perfectly suited for rainy Portland mornings. Head over to our instagram for a chance to win a box along with our Matte Black Pour Over Kettle, Hasami Mugs and brass spoon clip. 
How to Brew Black Tea Sachets
by Smith Teamaker

"Black teas are often brewed to bring out an assertive, robust and flavorful experience. Whereas we recommend slightly lower temperatures for green and oolong teas, black teas are recommended to be brewed just off the boil so that the hot water will ensure a deep extraction and complete steeping to produce those flavors. Similarly, we recommend using a porcelain or ceramic teapot to retain the temperature of the water, while glass teapots are recommended for lower temperature waters to steep green and oolong teas. Retaining the temperature is also the impetus for preheating your vessels."
1. Bring fresh, filtered water to a boil (212℉)
2. Preheat your cup with boiling water, then discard the water.
3. Brew the sachet in a teapot or directly in your teacup. In your chosen vessel, pour about 8-10 ounces of water over the sachet.
4. Allow the tea to steep for 5 minutes.
5. After 5 minutes, remove the sachet and enjoy.
"As mentioned, it can be easy to customize the flavor of tea. If you want to give your black tea a stronger flavor, brew more tea leaves so that there is a larger ratio of leaves to water. We do not recommend steeping for more than five minutes, but as a general rule of thumb, the longer that you steep your tea, the more caffeinated it will become."



Photography & guide by Smith Tea