Opening up a successful coffee joint in a town as obsessive about their caffeine as Portland takes more than just guts and grit. It takes years of study, an all-consuming passion and a keen eye for design. Thankfully, brew masters and business partners Tyler Geel and Even Aldrete have the above in spades - plus a great deal of charm to boot. After years of honing their barista skills in various cafes, they were ready to break out on their own. The fruit of their joint-venture labor? Dapper & Wise Roasters. Designed with old-world charm, rich leather accents and brass Schoolhouse fixtures galore, their outpost on SE Division street opened last year to great acclaim. We chatted with owner Tyler Geel about roasting styles, coffee community, and what makes them so darn dapper and wise.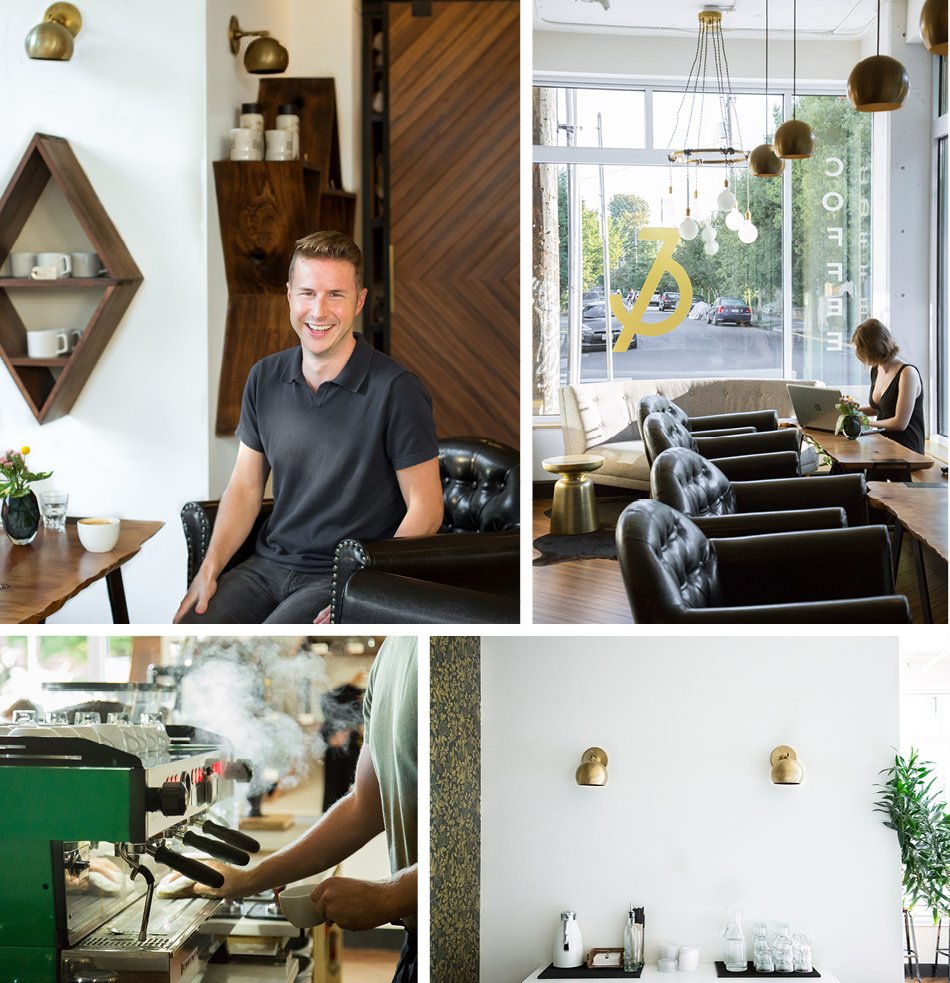 Name: Dapper & Wise Division Cafe
Date opened: March 2015
Neighborhood: SE Division Street 

Tell us a little about Dapper & Wise as a brand. What inspired the whole endeavor? 

"My business partner, Evan Aldrete, and I had been successfully opening, owning and operating three cafes over the course of 6 years while using another roaster's beans for our customer base. During that time we were madly in love with the cafe model, sharing our hearts with our neighborhood, living life alongside our friendly customers... even watching our children grow up in the shops. Then as we were perfecting our coffeeshops, the desire for more knowledge and control of our product grew as well. We just wanted our fingerprints on the beans farther up the supply chain, choosing our favorite offerings and creating relationships with farmers and producers. And we got to the point where we decided to jump in wholeheartedly. In the summer of 2013 we were somewhat thrust into production and had to learn by doing... and we found that we absolutely love the world of roasting, too. Through continuous refining and dialing in, we feel extremely honored to share a phenomenal product alongside our fellow Portland roasters and contribute to this exciting community."

Where does the name come from? 

"Being 'Dapper' and yet also 'Wise' are two attributes to which Evan and I aspire, so it seemed quite fitting to have them in our name. Hearkening back to the turn of the century when business names often resembled two last names, we felt like it just had a ring to it. And in a roundabout way, this name has turned into a 'vision' for our roasting program: We strive to be trendy, spunky and fun... perhaps even funny... encompassing Dapper, but also rich in knowledge, kindness and approach-ability, hence Wise."

What did you do before you opened up shop?

"Before our roasting endeavors, we were quickly becoming seasoned baristas, turned cafe owners. But even before that, we were stuck in the corporate grind of call centers and web development internships. Our dream of doing something bigger than ourselves was tugging at our hearts until we stepped out into entrepreneurship and never looked back."

Your space is a great mix of welcoming, laid-back but also special-feeling. Did you have a very specific vision for the design from the start or did it come together organically?

"Our cafe on Division was the result of a couple of us creatives brainstorming and dreaming together. Under the leadership of our brilliant and talented former employee, now designer, Stephanie Leyrer (facebook.com/stephanieleyrerdesign) we wanted clean lines, bright whites, classy brass and modern shapes. We threw in some clever up-cycle projects including peg board along the front of the bar, normally reserved for grandpa's garage, we painted it white and are enjoying the resulted fresh polka-dot feel. The Schoolhouse Electric lighting, Rifle Paper wallpaper, Heath Ceramics tile and West Elm settee were the crowning touches."

Which Schoolhouse fixtures did you choose for your space and what drew you to those in particular?

"We settled on a couple of the Satellite 3 Chandelier for over the bar, Isaac Pendants and Sconces for the front of house, and the eye-catching Tangled Chandelier (which we also use in our roasting facility tasting room) for the front window. The classic, clean and modern aesthetic gives us all the feels and makes us want to never leave the space! We are really enjoying that brass is making a full comeback!"   
What atmosphere are you hoping to cultivate within the space?

"We want a place where coffee connoisseurs can come geek out with us but not feel stuffy, a place where those in the beginning of their coffee exploration can learn and gain knowledge, a place where we pursue excellence but don't take ourselves too seriously. Producing the best coffees we can find is our goal, but beyond that, making it approachable is just as important." 

Tell us a little about your coffee ethos – what made you get in to the coffee game? Can you share a little bit about your roasting process?

"We strongly feel that coffee is much more than just a beverage. It's a means of connection, conversation, community building and accomplishing a greater good. We pursue excellence in production but also put the same amount of focus on relationships, within and outside our walls. It's amazing the impact we can have on our world with this seasonal fruit that is the coffee cherry. Our dream of visiting origin coffee farms, developing friendships with and working directly with the farmers is becoming reality with our trips to Ethiopia back in February and Guatemala/El Salvador in January 2017. And we hope to continue partnerships with those farmers, their families and ultimately, their whole communities. On the home-front, our collaboration for each roast and blend includes the whole crew... our Q Grader, wholesale manager, educators, innovators, roasters and production team. With such brilliant minds in our company, our strength comes from the variety of perspectives." 

What's your go-to order?

"A simple, clean Kalita pour-over of our Ethiopia Qonqona with notes of ripe strawberry, plum and banana chips satisfies my caffeine requirements, while entertaining my taste-buds and warming my heart. Oh, and a delicious and innovative Peach Hoppy Coffee Soda never disappoints."