Cocktail Hour with Clyde Common

It's the time of year and that day of the week where a quality post-work beverage sounds just right. To serve up something that hits just the right spot, we teamed up with head bartender Jeffrey Morgenthaler of Portland's stylish watering holes Clyde Common & Pepe Le Moko next to the Ace Hotel. A champion of seasonal drinking, he switches up his creations depending on the day and weather (Pro-tip: You'll want to order the eggnog at Clyde Common, like, right now) for the ultimate in comfort drinking.


Morgenthaler was kind enough to craft us a special Schoolhouse holiday cocktail using our newest collection of speciality barware. Inspired by rich fall flavors and as a clever nod to the Schoolhouse theme, he started with a base of apple cider (a personal favorite of his) and added in Rye whiskey to cut the sweetness of the apple while layering in subtle hints of caramel and vanilla notes. The addition of Fernet adds a warm earthiness to round out the final flavor profile. We lovingly named it "Natural Brass" and promptly headed over for happy hour. Get the recipe below!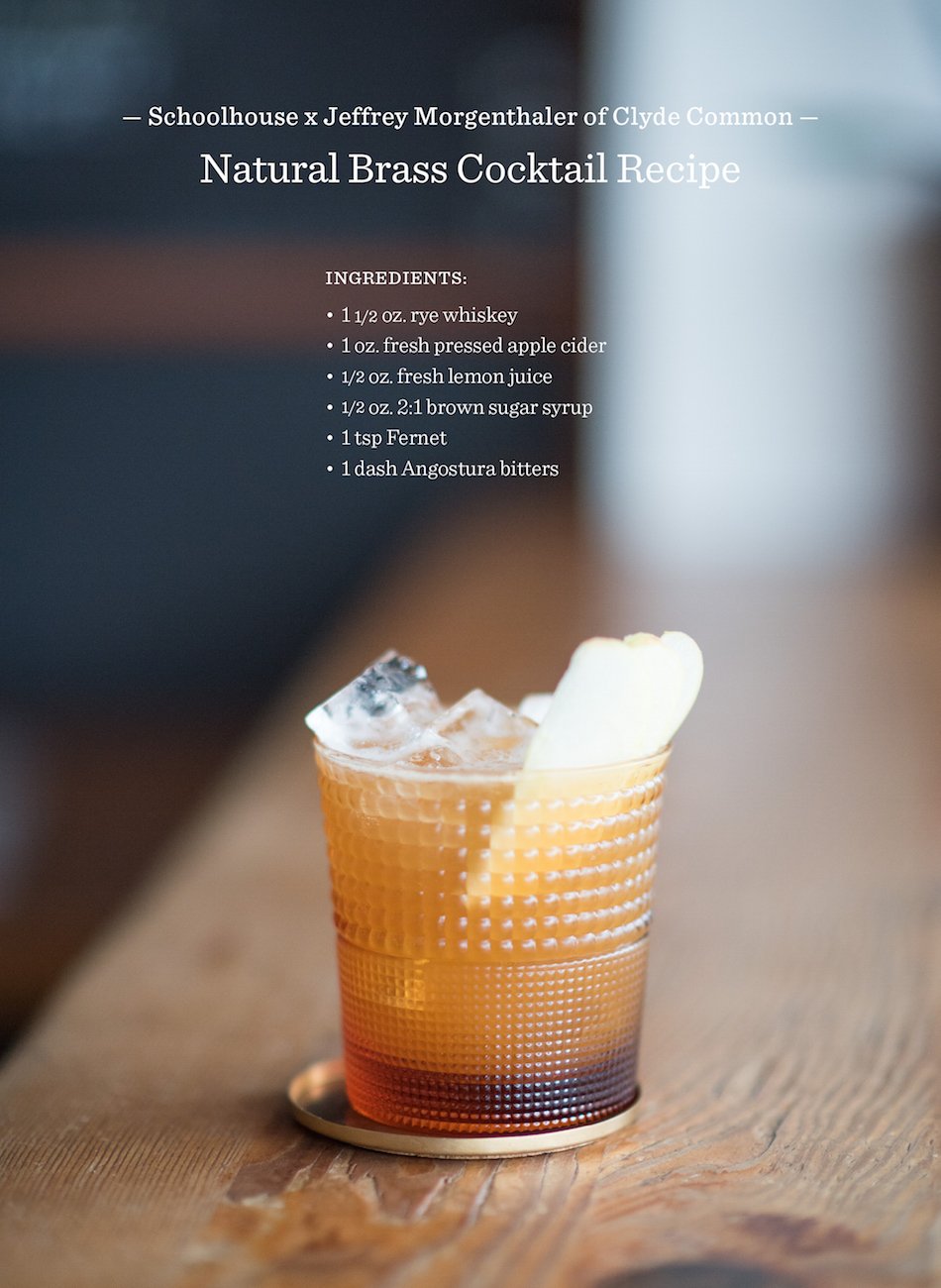 Schoolhouse "Natural Brass"


by Jeffrey Morgenthaler

1 1/2 oz rye whiskey
1 oz fresh pressed apple cider
1/2 oz fresh lemon juice
1/2 oz 2:1 brown sugar syrup
1 tsp Fernet
1 dash Angostura bitters

Start by making the simple syrup: Combine 1 cup brown sugar with 1/2 cup water in a small saucepan. Cook over medium heat, stirring, until the sugar dissolves completely. Let cool, bottle, and refrigerate (will last about two weeks). Combine all ingredients in a cocktail shaker with ice cubes. Shake until cold, and pour over fresh ice in a tumbler glass. Garnish with slices of fresh apple and serve.
Photography by Jack Wineinger; Recipe by Jeffrey Morgenthaler