In our latest Designer Spotlight, we are thrilled to feature  Amber Lewis, founder and CEO of Amber Interiors.  Known for incorporating bohemian elegance into her projects, Amber has a knack for making each of her spaces feel cozy, eclectic, and unique. From large scale residences to extensive commercial projects, Amber's design portfolio is both varied and vibrant. We chatted with Amber about her favorite (and not-so favorite) design trends and what Schoolhouse items she is currently loving. 
Describe your aesthetic when it comes to decorating. What styles are you drawn to personally? 
"I've definitely been put into the niche of California Eclectic, which I ain't mad at. It's the perfect mix of beach-y meets worldly, while also being comfortable and approachable. Although I like to look at my designs as my pieces of art, they are ultimately meant to be lived-in and enjoyed by my clients."
Where do you find most of your inspiration and who are your influences?
"When I was younger I found so much inspiration through travel. Since I have a family and a business now, I don't get to travel to unique places too often anymore. I do tend to look at what the design firms in Australia are up to. I totally admire them from afar and dig everything they do over there. They're always a few steps ahead of the gang."
Where do you find most of your go-to basics when it comes to decorating a space?
"I always likes to start with a neutral canvas when picking the main pieces in each room. For example, you would just never see me put a bright red sectional in a room - that's a big piece and something that you have to live with for years to come. Don't go crazy at first, you can definitely add character with additional accessories such as - ottoman, pillows, rugs..."
Tell us a little about your process when it comes to designing a space for clients.
"When starting the actual design process, there's just no other option than to make a billion floor plans of each room to make sure you're getting the best use of the space for your client. Then once you've got that figured out, you just build off that. Add in your big pieces first and then edit through smaller furniture pieces. Then lastly, once everything has arrived and is in place, you accessorize the space."
Favorite projects you've done?
"I can't pick one - there's just no way. I love all my projects equally, they are my design babies! It's fun seeing where they pop up, I'm always wondering what's next. I hope to have houses all over Southern California one day, in every single nook and cranny. I love it here and I feel like my style exudes that."
Favorite design trends or timeless looks you love?
"I definitely don't think I'm the only one, but I've really been into exposed beams and steel doors. Together or separate - I dig 'em! Plus, I don't think these elements are too trendy that they would be seen as out of style in a few years time."
Least favorite design trends?
"This whole trend going around with "Millennial Pink" really irks me. I'm not completely against pink, don't get me wrong. Pink can be done right and it definitely has its place but millennial pink is more of a Pepto Bismol shade, and I just can't get down with it!"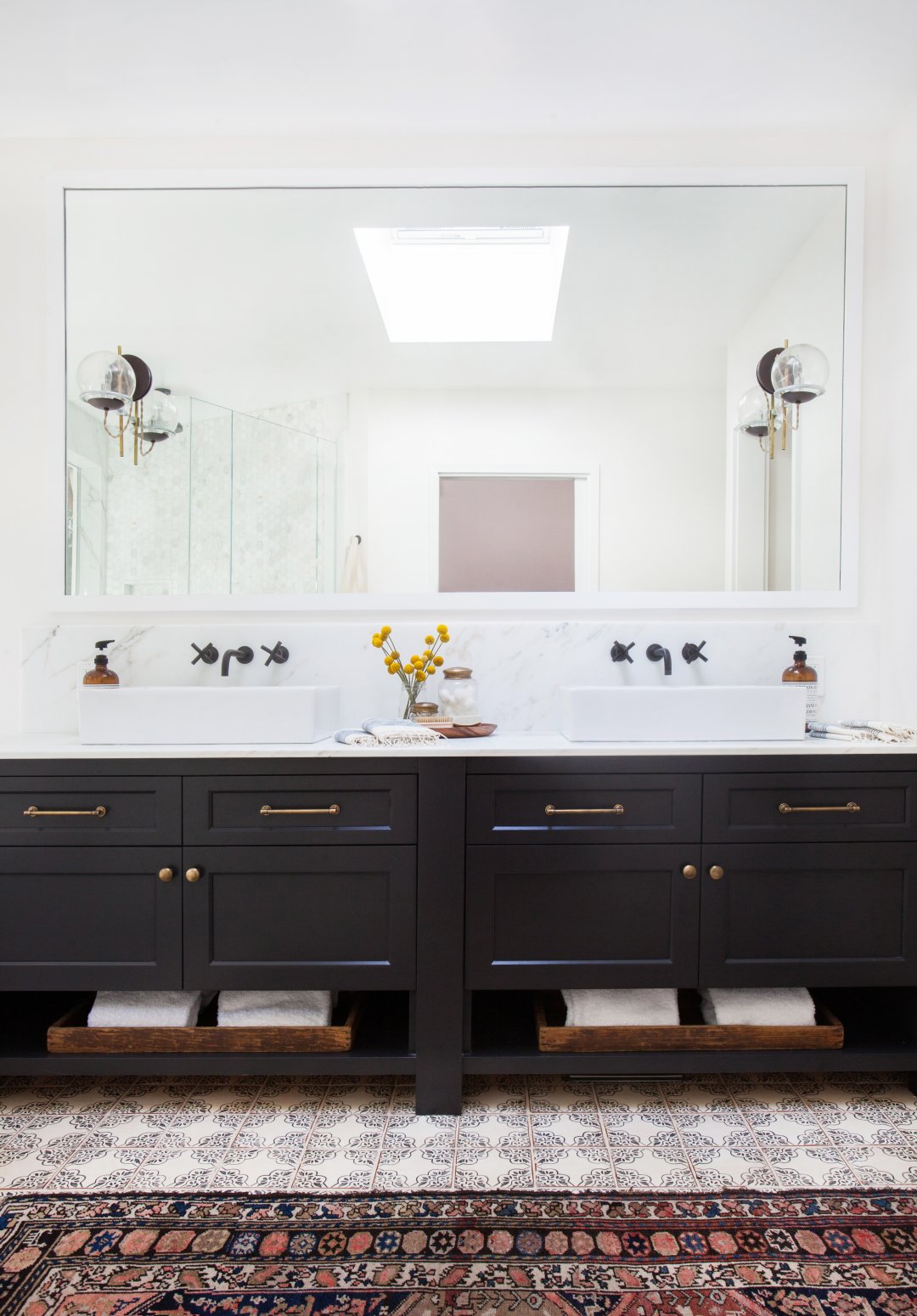 Favorite color palette or materials to work with?
"Color palette: natural colors, navy, slate gray, army green, oatmeal, warm whites.
Materials: Warm Calacatta marble countertops, mixture of wood tones, antique brass or oil rubbed bronze finishes, cognac leather, and hand-painted tiles."
What's your top design trick?
"Want an easy way to spruce up a space cost effectively? Drape your favorite textile you picked up at the flea market over your headboard or sofa. Even if you buy a house plant and put it in that empty corner of your living room - it adds instant life to the space."
What's your dream design project?
"I think my dream design project would be my own! But that would mean finally making up my mind on the plans! We've remodeled a room here and there in our current house, but hopefully we'll be tearing it down and building the house of our dreams in the next year if all goes well!"
Finally, what makes a house a home to you?
"The families inside them of course...Oh, and a rad little pillow combo never hurts!"