Founded and based in Portland, QUIN vows to make candy using the best ingredients out there: homegrown Oregon berries, housemade coffee extract made from locally roasted beans, hazelnuts from a few miles away, and tea blended just a few blocks from its candy kitchen. QUIN is the brainchild of Jami Curl, also known as @sprinklefingers in the Instagram world (we recommend you follow her if you don't already), and the company has grown steadily since its inception in 2013. We stopped by the shop in Union Way to talk with Jami about how QUIN came to be and what's next in the land of candy. 
Name:
QUIN 
Date opened:
July 2013
Neighborhood:
Located in the Union Way shopping 'alley' nestled between SW Stark and Burnside, just across from Powell's Books in Portland, Ore.
Tell us the story behind QUIN and how you began the journey to making candy full time.  
"QUIN began as an experiment. I had been baking at (and developing recipes for) my bakery daily for nearly 9 years. One day, I simply could not wrap my head around developing another cookie recipe and decided I'd try to make caramels. The first was a sea salt caramel – it took a few tries to get it just right, and once I had the recipe down, we started selling them at the counters of the bakery. Because the caramels seemed to be pleasing customers (and I loved making them), I decided to try a different type of candy. This time? Lollipops made with fresh strawberries. Again, I worked out the recipe (I am entirely self-taught), sold the candy at our counters – and people seemed to love it.
QUIN grew from there – I worked my way through various types of candy and soon it started looking like one of two things: a new line of products for my bakery OR an entirely new business. For many reasons (most of which include waking up at 3:30am every day for almost 9 years), I decided to make a go of candy, created QUIN, sold the bakery, and have been focused on candy since. QUIN has grown into a highly respected, entirely handmade candy company. QUIN is sold at more than 200 retailers nationwide. We use only real food to craft our sweets, we use zero fake ingredients, and we work hard to spread that magic!"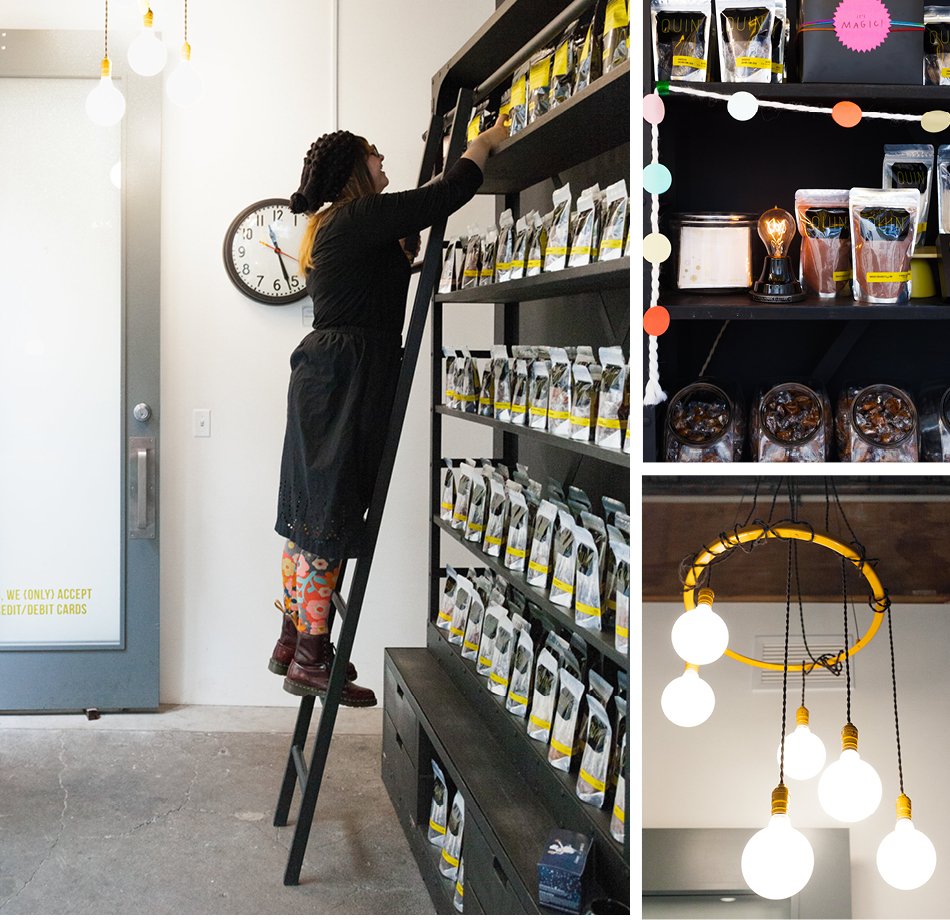 Your shop in Union Way is so charming and in a great location, why did you choose this space?
"Thank you! We really love our tiny shop in Union Way. I started out looking for something very small – understanding our retail shop would only sell the candy we make, I knew we'd be looking at a sliver of real estate. A space that would make sense if it was stuffed with bags and boxes of handmade candy.
As luck would have it, Union Way was being built right around the time I started to entertain the idea of opening a retail shop. My bakery was right up the street, and I love to walk, so I knew just about everything that was happening in the neighborhood thanks to my daily walking breaks. Even luckier, Union Way contained a tiny retail spot perfect for candy. It's probably the size of a closet, but it has very high ceilings, gets nice light, and has a huge window overlooking Union Way's corridor. We were the first retailers to open in Union Way (the place was still under construction on our opening day – sawdust everywhere!) and we've been happy there since."
What would be your ultimate dream as far as a candy collaboration?
"I actually just achieved this ultimate dream goal! I really love all kinds of treats, especially ice cream. And ESPECIALLY ice cream from Jeni's Splendid Ice Creams of Columbus, Ohio. I was lucky enough to collaborate with Jeni on an ice cream and together we created Osmanthus and Blackberry Crackle – tastes almost like peach pie mixed with tart berries. It's SO GOOD."
What one piece of advice would you give to someone looking to start their own business?  
"You are the only person who's going to care about the business as much as you do.
The only thing that keeps me sane day after day is the knowledge that I am the only person who is going to care about QUIN as much as I care about QUIN. I work every single day as hard as I possibly can because I know I'm the person who cares the most. Would I like employees to care as much as I do? Definitely. Is it fair of me to ask them to do so? Not at all.
Note: I have owned and operated my own businesses for nearly 14 years now, and this concept has never been proven incorrect."
The QUIN motto is "Candy is Magic," how did that come about and what do you consider to be the most magical element of your candies?
"When we were designing the Union Way store I wanted to bring in an element of art or graffiti to add a bit of grit to the space. When we locked in on the idea of graffiti I knew we needed some sort of candy-related words of wisdom on the wall (I liked the idea of something sweet scrawled in a normally not sweet medium). I talked out loud for a few minutes – saying all kinds of crazy stuff, then it just came out 'candy is magic!' and that was it.
The fact that we make real food into candy is the most magical element of the candy, for sure."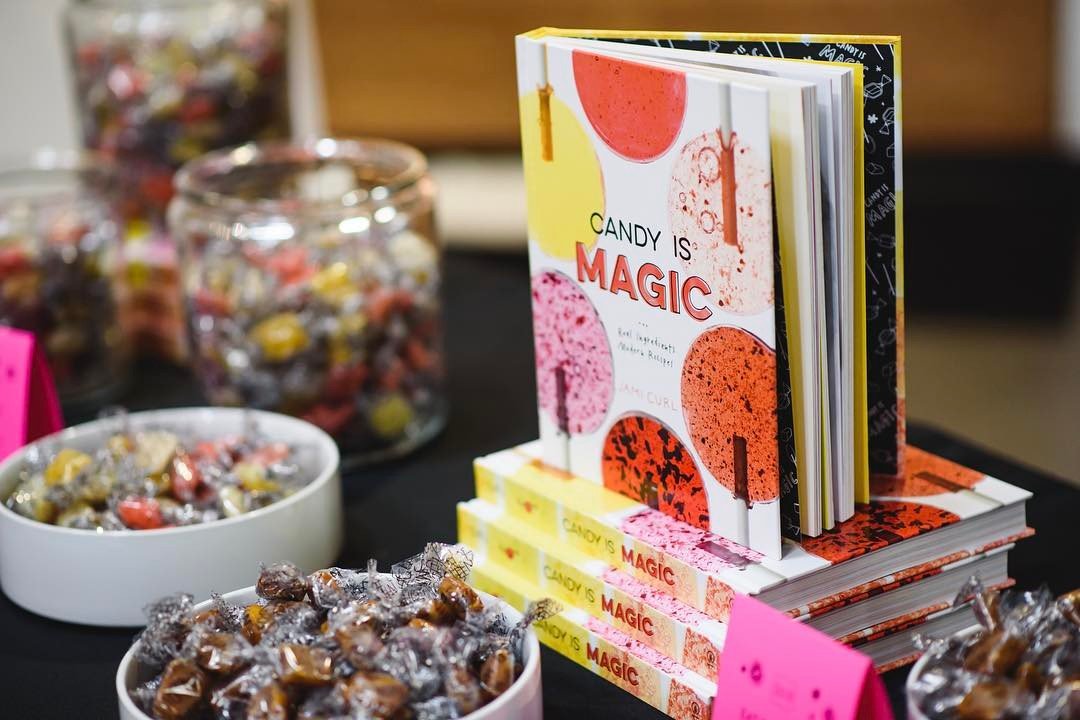 You just released your first cookbook, congratulations! Can you tell us the best (and even worst) part of the book writing process?
"Thank you! Yes, Candy is Magic is out in the world and it is a crazy feeling, for sure. Writing a book while running a business can be a little overwhelming. There are about one million balls in the air at all times, and a lot of it is out of your control. In situations like these I like to identify what I can control and focus pretty much only on those things.
I was lucky enough to do my book with Ten Speed Press, and they allowed me to build the creative team for my book in the way I wanted. I got to work with the exact photographer and illustrator I wanted, and the same person who designed QUIN's logo designed the cover of the book – so I think working with a massively creative team – people who really go above and beyond with ideas, brainstorming – people who say YES instead of no – being surrounded by people like that throughout the process was by far the BEST part of the experience.
I also really love to write and I like to teach – a cookbook is the perfect place to put both of those things into action."
Any exciting new candy creations on the horizon you can share with us?
"YES. We just developed a Dreams Come Chew (our original Dreams Come Chew are fruity and chewy candies in super cute colors, all natural – super good/bestsellers) – this new DCC tastes like a MARSHMALLOW! And it is a little bit smoky so it not only tastes like a marshmallow, but it tastes like a marshmallow that has been roasted over a campfire – hence the CAMPFIRE MARSHMALLOW Dreams Come Chew. They'll be available starting mid-June.
Thank you SO MUCH for letting me do this! It was a pleasure to talk candy with you."
|  Open M - Sat 11am - 6pm
Sunday 11am - 5pm |
1025 SW Stark St, Portland, OR