We're blessed to have incredible people at Schoolhouse. Unique, wise, daring and vibrant souls who make coming into work feel, well, a lot less like work. When we interact with customers, sometimes people are surprised to hear that we have actual brick-and-mortar stores as opposed to only being an online shop. Conversely, some people are surprised to hear that we only have two stores - the assumption being that we're much bigger than we actually are.
The truth is, we're extremely thoughtful about our stores. It's a much-welcome opportunity to meet and chat with people face-to-face and our analog selves are always grateful. Plus, nothing beats seeing and feeling our products in-hand. There's that quality aspect that just can't be properly conveyed in a pixel-only format. Here we wanted to introduce you to the talented folks behind our beloved PDX & NYC stores. 
They are the ones warmly welcoming you in the door; the curators and vintage-hunters; the ones who know just about everything and are always going above and beyond to help. First up is our store manager Michael, who moved from Portland to run our NYC store. A complete gem of a human being, he is rich in style (note: the sweater), knowledge and even more so in kindness.
Hi Michael! To start off, will you tell us how long you've been at Schoolhouse? 
"I have been with Schoolhouse for 5 years. First starting with the company at the headquarters in Portland, Oregon. After a year I was asked to move to NY to manage and remodel the location here."
What do you most love about New York and the New York store in particular – what makes it so special to you?
"The best thing about NY is that there is always something to do. There are never-ending and constantly changing museum exhibits, performances, restaurants and store openings. Currently in NY, hundreds of small and independent businesses are no longer able to survive and the feel of every neighborhood is changing. Many areas are now homogenized with big box stores and glass multi-unit condo developments.
Our Schoolhouse NY location provides an oasis for customers that appreciate great design and craftsmanship in a unique and thoughtfully-curated environment. We provide personalized and friendly customer service in a sometimes impersonal city. Our customers make it a point to let us know that we are a unique destination and this quality makes for many repeat customers that turn in to friends."
Give us your top recommended NYC destinations: 
"The list of destinations to visit in NY is endless and can cater to any interest. My favorite journeys all seem to include museums, vintage shops and restaurants."
Whitney Museum: "They have the best collection of great American artists in a beautiful building by Renzo Piano that houses their collection perfectly. They also have a bar and restaurant with delicious cocktails!"
Chelsea Flea Market: "Although the vendors and selection has dwindled a bit since the unfortunate closing of the Antiques Garage, the Chelsea Flea is still the best place for people watching and finding some unexpected treasure."

Vintage Favorites: "Clothing has always been one of my favorite things to hunt for and there are 3 places I go to as often as possible: Stock Vintage, Quality Mending and Front General Store. Whether you're looking for vintage French workwear or vintage Comme des Garcon – there is something for everyone."

Costume Institute at the Metropolitan Museum: "They have the best examples of dress and costume throughout history and it's always inspiring to see the techniques and materials."
(From top left: Whitney museum, Stock Vintage, Costume Institute at the Met, Hao Noodle and Tea by Madam Zhu's Kitchen, chelsea flea market, Quality Mending)
How does working at Schoolhouse inspire you and what do you love most about your role?
"Working at Schoolhouse inspires my creative side because I am lucky, and thankful, to have the complete trust and freedom to make the NY store my own. When I first came to the store, the goal was to make the look and feel of NY relate to the style and aesthetic of the Portland flagship – but a mini version. I think we have achieved that and now whether you're in Portland or NY you get the same vibe of the company."
Tell us your favorite Schoolhouse-related story to tell others:  
"The very first time I visited the Schoolhouse building in Portland, the store wasn't yet open to the public and many of the floors were still empty. I was there to meet Brian Faherty for a job interview. Instead of your run-of-the-mill interview, we just ended up talking about the best, most random stuff like door handles made to mimic axe handles, 'subway' tiles that were actually whitewashed wood and what 'good' design means in our world. I left that day thinking 'I have to work here' and the following week I was!"


What's your personal design ethos and how does it play out it your own home?
"My personal design philosophy is the thought that the more you mix together things you love, the more harmonious they will be. For my many collections of stuff, I like to group by color or texture or material. I am always on the lookout for vintage mercury glass, portrait paintings from the 30's and 40's, bird taxidermy and Chinese art deco rugs. The old stuff looks great mixed in with a very contemporary sofa, chair or lamp and makes the room less sterile and serious."
Share your ideal day off-work, how do you spend it?
"My ideal day off starts with not waking up at 7am! After that, I love the days off that I have with my partner Sammy – this is rare as he is also in retail. The day usually involves something simple to cook at home since I'm not a 'going out to brunch' type. Ideally we go to a flea market or thrift store, as there is always something exciting to look at. If the weather is less than ideal, it's a good time to spend wandering one or two of the many amazing museums in NY."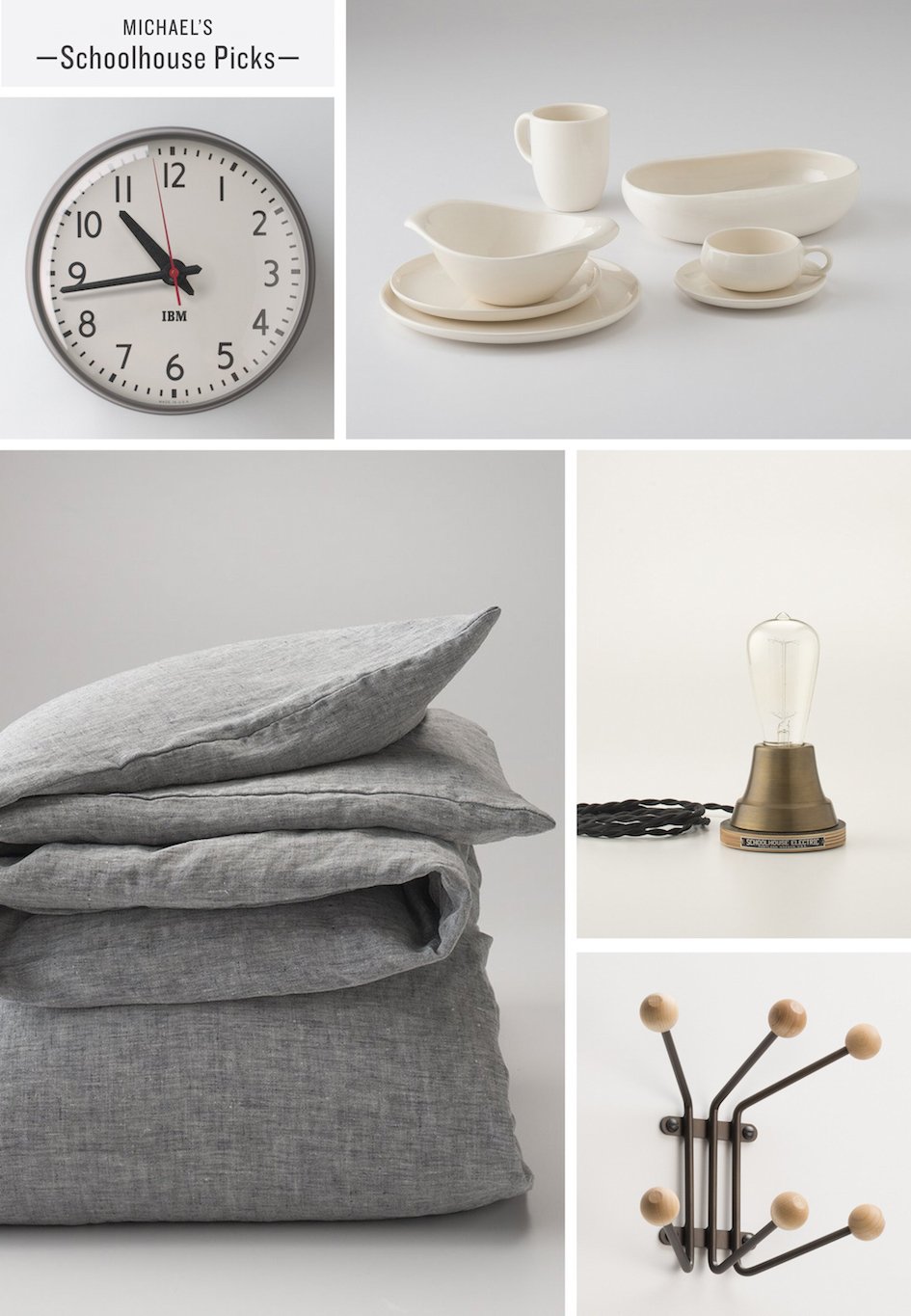 IBM Clock – "iconic design updated with 1 battery operation" | Russell Wright Dinnerware – "a nicely re-issued version from a design pioneer." | Ion Lamp – "a classic Schoolhouse piece that is sturdy and can fit anywhere." | Linen Duvet Cover and Shams – "Linen is my favorite material to wear and sleep on. I like the crispy feel and soft wrinkles that wear well." | Mollie Hook with natural wood – "a great mid-century design catch-all with natural wood accents."